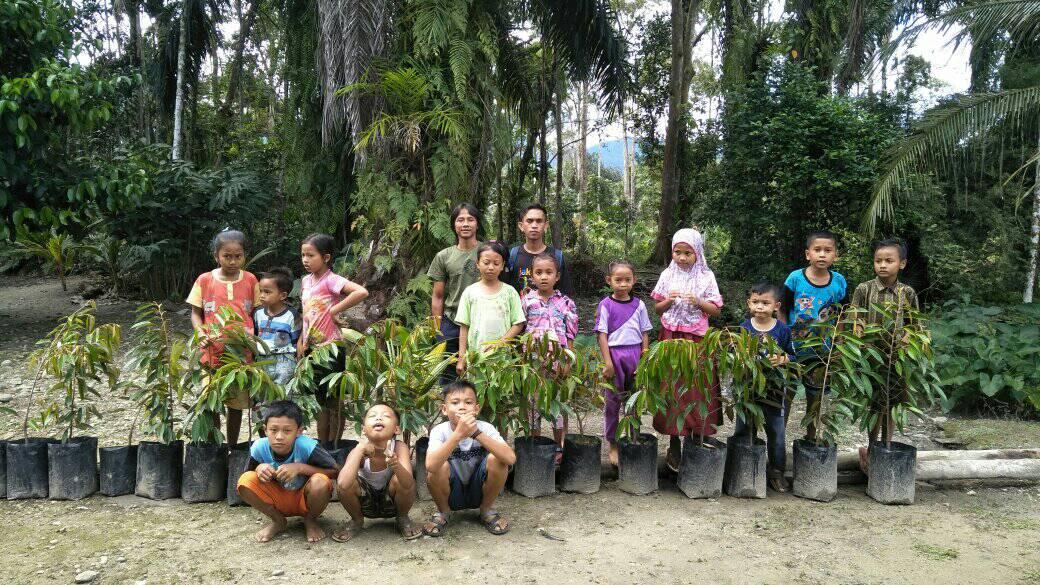 Reimagine, Recreate and Restore Nature in Sumatra
Today is the launch of the UN Decade on Ecosystem Restoration, a global movement to restore our planet for the benefit of people and nature. As we celebrate this day, we would like to share the story of our work to restore nature in Sumatra, working with communities around the Batu Kapal buffer zone in the Gunung Leuser ecosystem.
We are joining #GenerationRestoration movement to:
Reimagine the areas surrounding the Gunung Leuser national park, so that nature and communities can thrive side by side.
Recreate the lush jungle with its wild habitat through reforestation and sustainable agriculture.
Restore biodiversity and the health of the forest, rivers and communities who live there.
Over the past 15 months, it has been a real challenge to keep our conservation programs running without the help of our volunteers. By supporting us on World Environment Day, you will enable us to continue our work to restore nature in Sumatra.
We sincerely thank you for your continued support of our conservation and reforestation programs. Without your help, none of this would be possible and for that we are truly grateful.
How it all began – Reforesting Batu Kapal
It all started with a family holiday to a remote area of North Sumatra. The founders, Sue and Sean Delaney, were visiting the Batu Kapal buffer zone, right next to the splendid Gunung Leuser national park. They were enchanted by the beauty of the area, so incredibly rich in biodiversity, and particularly by its many orangutans. They also felt strong affinity with the local people and wanted to do something to improve their welfare. What had begun as a sustainable trekking company had soon turned into a whole range of community and conservation programs.
As Sean worked on the Batu Kapal Conservation project site in the jungle, he soon discovered a group of wild orangutans who found refuge from the surrounding farmland and palm oil plantations in the tall ficus trees next to Batu Kapal caves and rocks. They often passed by as he was relaxing on a terrace and paused to take a closer look at him. In those short encounters, as they observed each other, Sean sensed their intelligence and the deep similarity between our species.
Sean soon realised that the orangutans were unable to cross to the protected area of the rainforest due to surrounding rubber plantations and farmland. He and Sue put their hearts into reforesting the area to build a natural bridge that would enable the orangutans to move freely in the rainforest.
However, their original goal has expanded to a whole range of initiatives that aim to protect and restore the biodiversity of this special and important place – below is an overview of some of our new and ongoing programs.
How we restore nature in Sumatra
Community Forest Fringe Reforestation Program
We are launching our new community reforestation program!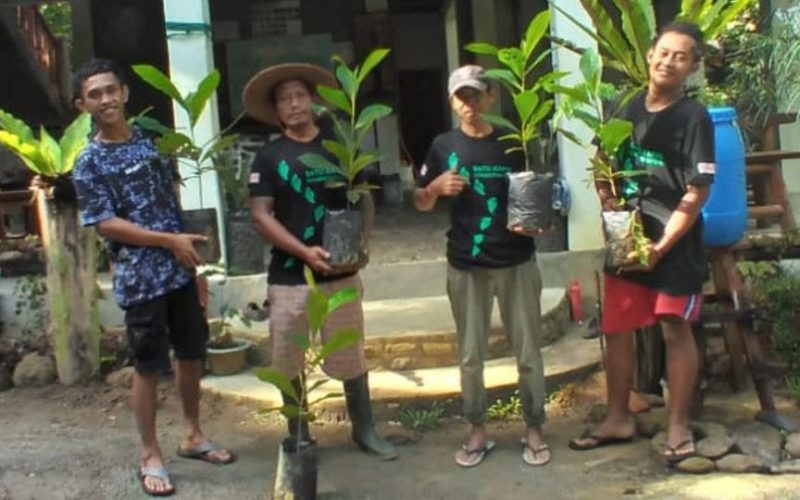 The only way to make a real impact is to bring the whole community to work together to restore nature in Sumatra. We are currently trying to establish a community-wide initiative in the Batu Kapal buffer zone and surrounding villages, alongside Landak and Musam rivers, to help them reforest their properties with a mix of edible fruit trees and rainforest canopy trees. We are hoping that in the longterm the newly grown trees will create a safe corridor connecting different parts of the forest, enabling wildlife to move freely across the jungle.
Over the past few months, our ranger team has been talking with local farmers about our Durians For Orangutans program, providing advice on how to handle orangutan conflict situations in non harmful ways and planning reforestation activities. Over the next few months the team will be working with our neighbours, planting over 125 durian trees in the Batu Kapal bufferzone as part of this program.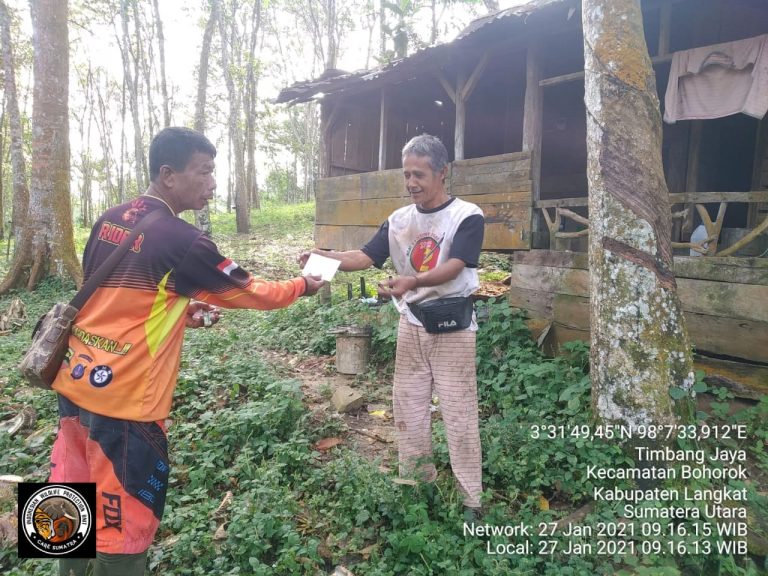 We have been supporting locally-led educational initiatives, such as the Sumatra Dream Class and Sunshine Class. Apart from providing English education, our partners are teaching children from remote villages how to care about their environment. Their goal is to equip them with practical skills in recycling, reforestation and sustainable farming.
The Sumatra Dream team is also working to convince the farmers from the village to replace their palm oil trees for a variety of durian, coconut, mahogany and rotan trees. The team has bought 50 Rambutan trees, which were planted with the help from the children on the land of a farmer that is currently growing palm oil.
Visit the tree nursery grown by Sumatra Dream Class team on this video.
Last year, we repurchased 2 hectares of land from a local landowner. On this land, we have established a sustainable permaculture program to provide education to local farmers on sustainable farming practices and to give them alternative sources of income.
The Hutan Subur project is a good example of mixing different sustainable strategies, as it combines farming, reforestation and conservation initiatives. Much of the land is covered by a jungle and is home to wild orangutans, so the team is conserving the existing rainforest while, on the other side, they are planting new trees to replace the existing rubber plantations.
More than 4 million people live within or adjacent to the Gunung Leuser National Park, and most of them are farmers who depend on water supplies from the forest.  The reason there are so many farmers in Indonesia is because the country has one of the most fertile lands on Earth, where the soil is perfect for planting such crops as rice, potato and casava. 
However, due to the expansion of human population, more and more settlements and farmland are encroaching on the Sumatran rainforest. Over the past few decades, millions of trees have been cleared in Sumatra to make space for agriculture, livestock grazing, settlements, and tree plantations (read more about deforestation facts).
According to the manager of our ranger program, one of the impacts of the pandemic has been a growing trend in people switching back to land cultivation, as many have lost their jobs in tourism and other areas. "People are finding new and more sustainable ways of supporting themselves, such as growing brown rice instead of importing it from Vietnam," Arie, Manager of CareSumatra Ranger Program.
We want to empower the local farmers so that they engage in sustainable farming and agriculture practices, which will also benefit the farmers and forest-edge communities in the long-term. We do so be encouraging them to grow permaculture, which is an approach grounded in regenerative agriculture, rewilding, and community resilience. These techniques will enhance biodiversity and restore nature in Sumatra, protecting the Gunung Leuser rainforest. 
Why Gunung Leuser is so special
According to the latest research by a Canadian forestry professor, Dr. Suzanne Simrad, forests are examples of intelligent societies. They are not collections of individual trees who compete for resources, but are complex societies where trees are interconnected and can communicate across vast distances. They do so through the underground system of roots and fungi, reminiscent of the Internet. Listen to this fascinating Radiolab episode to learn more about the intelligence of trees.
The Gunung Leuser rainforest – one of the oldest and most biodiverse forests in the world – is one of the most complex forest societies on Earth. Imagine the wealth of information gathered through centuries and stored in the old trees that act as communication hubs in the wood wide web.
That is why it is so important to preserve the existing forests, because the trees can pass on their knowledge to new generations of trees, ensuring their health and survival.